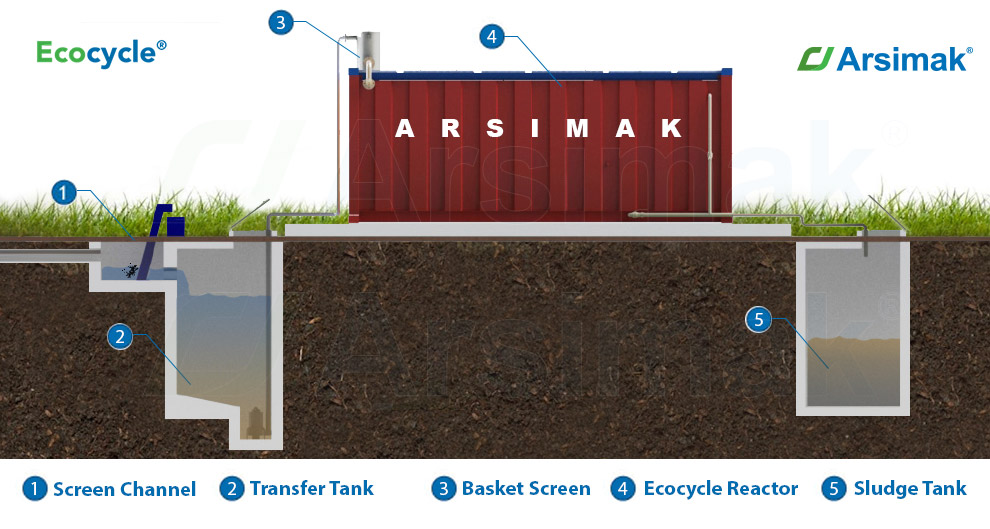 Screen Channel
The wastewater enters to the treatment plant from Pump Station where Manual Coarse Screen places, where big particles and grit larger than 20 mm are removed and collected in Coarse Screen. Then, the wastewater flows to the Transfer Tank.
Transfer Tank (Pump Station)
Transfer Tank (Pump Station) is used to overcome peak flows and collect wastewater before lifting to the system. The wastewater is pumped to the Ecocycle® Reactor by 2 Lifting Pumps (1 pump on duty, 1 pump are on standby).
Pump starts lifting water by a signal from the level sensor.
By the wastewater level sensors the pumps cannot run dry.
Basket Screen
A manual cleaned Basket screen is installed on the inlet of the Ecocycle Reactor to catch and retain any large objects from entering the WWTP system. Big particles larger than 8 mm are removed and collected in Coarse Screen
Automatic Screw Screen (Optional)
Before entering the Ecocycle® the wastewater also passes through the Automatic Screw Screen, where particles with diameter bigger than 5 mm are caught. Then the wastewater enters to the Reactor.

Ecocycle Reactor
Ecocycle® unit which is proposed for wastewater treatment need, operates on the basis of biological process and is designed accordingly. It contains all the basic units for treatment such as screen (primary treatment) aeration, clarification, disinfection and sludge storage sections and all the necessary mechanical and electrical equipment, piping and instrumentation inside its compact body as a package unit.
Air requirement for aeration process is supplied by blowers and distributed evenly to all aeration part via special piping. The so-called system of "fixed bed active sludge process" is the main advantage which distinguishes Ecocycle® from other treatment units. In conventional active sludge or extended aeration systems bacteria growth is made in suspension in wastewater, whereas in Ecocycle® bacteria grows on plastic plates, offering very high bacteria concentration and treatment efficiency which can not be compared with any other system.
It is a compact unit which is manufactured at transportable sizes
It is completely prefabricated. Only inlet/outlet and electrical connections are left for site works.
Treated water can be used for irrigation or discharged directly to the sea or even to the seaside.
Sludge Tank
For collecting the daily excess sludge the sludge holding tank is needed for collecting sludge of 1 month. The daily sludge which is collected in the sludge deposit placed just below the settlement basin is subject to be emptied daily.
Models & Dimensions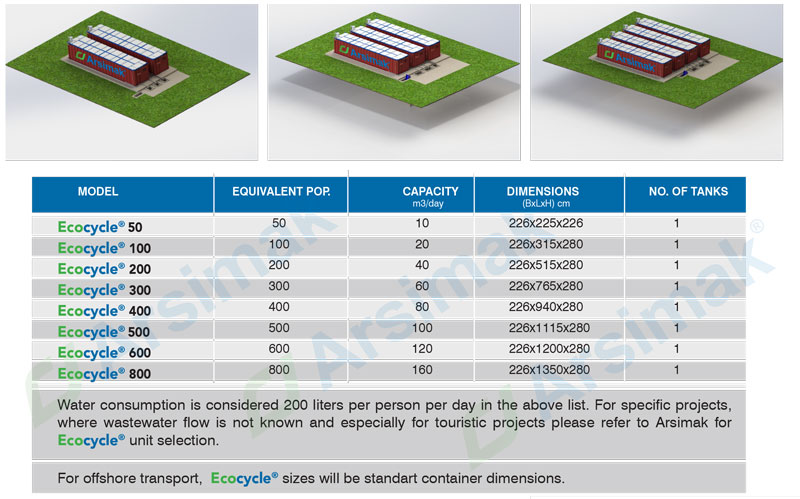 What are the benefits of the Ecocycle® biological container system treatment?
The technology used is ideal for applications where trained operators are not in place or where minimal operator entry is required. Modular design makes it easy to increase the number of units according to capacity.
That's why Ecocycle® WWTP solutions are the best choice for a low-cost, automated and reliable wastewater treatment plant.
Ease of operation
Modular design allows expansion
Quick installation and start up
Low operating expenditure
Small footprint
Low energy consumption
Discharge quality to environmental standards
Fully automated
Is it suitable for overseas loading?
Arsimak designs and manufactures the Ecocycle® units in suitable sizes when it will reach by ship transportation. Ecocycle® can be transported 20ft./40ft./40ft.HC Open Top containers.

Are components and spare parts easy to supply? (OEM)
Products and components are sourced from reputable suppliers and OEMs locally and internationally, providing you with the best quality possible.

Does Arsimak provide After Sales Support ?
Arsimak provides a wide range of after-sale support and services to help our customers make the most of their assets.