With its continuously working system, low energy consumption and high capacity characteristics, Belt Press is a broadly applicable product preferred for Municipal and Industrial Zones waste treatment facilities.

Belt Presses are high capacity equipments performing dewatering by using pressure-resistant belts for the drum compression pressure. Belt Presses can be operated uninterruptedly and display low energy costs.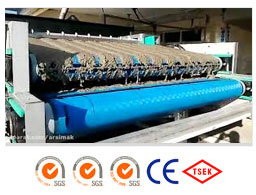 Belt Filtret Presses Areas Of Usage
Food and Beverage Industry
Industrial Sludges
Biological Sludge
Metal Industry
Mining Industry
Chemistry Industry
Pulp and Paper Industry
Leather Industry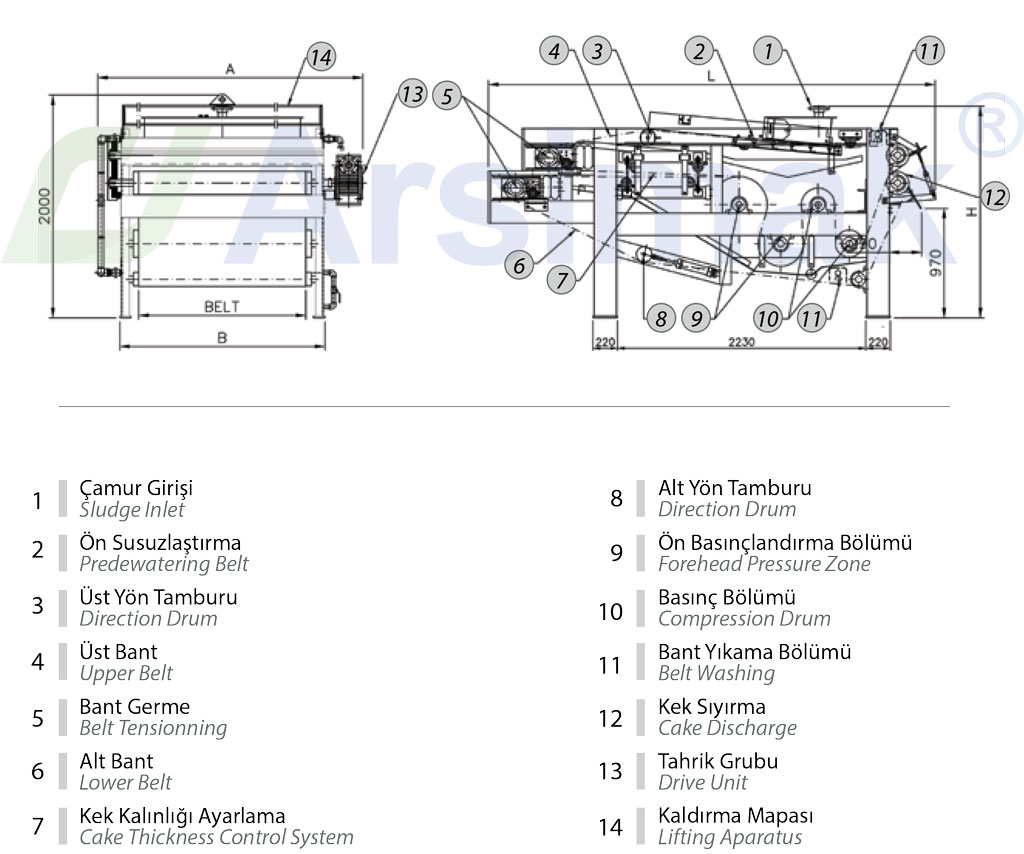 FLOCCULATION SYSTEM :
Flocculation is the name given to the process allowing the sludge to reach a composition suitable for dewatering process by addition of polymer and creation of the molecule chain called flok.
FRAME :
The main structure conveys the belt system constituted by the rotating drums. It is hot dipped galvanized or stainless steel to ensure the corrosion-resistance.
ROLLERS :
Within the belt press system, different drums with various functions are present. These drums are coated to obtain a sharp surface, thus protected against corrosion. Our standard series are 2-belt presses. These belts are made of high resistance filter material displaying high level filtration capacity.
BELT TRACKING SYSTEM :
To allow the movement of the belt sliding on the drums without any right-left movements, an automatic belt correction system is present. In case of belt sliding in the continuously working system, the belt is fixed by moving the drums with pneumatic bellows. As the belt presses are continuously working systems, this property is very important.
DISCHARGE BLADES :
The sludge going through the last drums is separated from the belt with plastic skimmers and transferred to the container or transporting belt.
BELT TENSIONING SYSTEM :
The skimming system is performed by sensitive pneumatic system and is adjusted not to damage the belt in long-term. Similarly, the belt stretching system must be adjusted to prevent it from reducing the belt physical life.
BEARINGS :
These bearings presenting a minimum of 100 000 hours physical life possess special rollers. These pieces are among the most important pieces of the Belt Press system.
BELT WASHING SYSTEM :
The system, equipped with 2 different wash stations, can perform the washing of the lower and upper belts separately. The particles that can lead to blockage on the belt can be easily cleaned up by unblocked self cleaning nozzles present in the wash system.
DRAINAGE :
The water extracted from the sludge during the dewatering step and the water coming from the belt washing are sent away from the system by the drainage line.
DRIVE UNIT :
Drum propulsion system can be adjusted with the frequency conveyor.