Linear mechanical screens are automatic self-cleaning inclined front raked screens which can be used as both fine and coarse screens in all kinds of treatment plants and pumping stations.
They are mostly preferred equipment since they have relatively few mechanical components and generally have no, any moving parts permanently located under the water level.
This type of screens is mounted to the channel with an an- gle. Linear mechanical screens generally consist of main frame, screen group, rake, counter wiper, and drive unit and chute.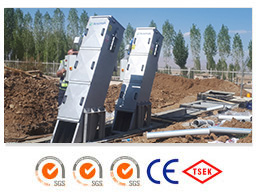 Linear mechanical Screens Areas Of Usage
Food and Beverage Industry
Industrial Sludges
Biological Sludge
Metal Industry
Mining Industry
Chemistry Industry
Pulp and Paper Industry
Leather Industry