Underground concrete application systems mostly using for summer houses and hotels. All system can be designed underground for this systems machine room can placed underground and machine room can designed as a cabinet that is ready for installation.
These units are constructed underground with service caps exposed. If desired, the concrete structure can be constructed above the ground. These units may be adapted to current septic tanks, concrete structures and water tanks with appropriate dimensions.
Even in variable wastewater capacities, the system is capable of yielding output water conforming to the Standard Values for Discharge of Household Wastes to the Receiving Medium under the Regulation Governing the Control of Water Pollution. Such output water may be used for the irrigation of gardens.

The Plant treats wastewaters by a Biologic System employing a microorganism community called active smudge. As excess process smudge to be produced in the package treatment unit is mineralized, it may be sucked by means of a sewage truck at 4-5 month intervals based upon the pollution rate of the input water or employed as a fertilizer in case the medium allows.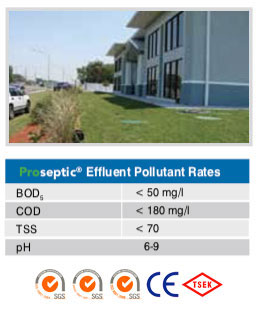 AREAS OF USING PACKAGE TREATMENT PLANTS:
Summer housing developments
Holiday villages
Housings and mass housings
Factories and Industrial Facilities
Villages, towns and Municipalities
Schools, Hospitals and Military Facilities
Accommodation Facilities and Restaurants
Temporary locations such as construction sites
Recreational facilities Camps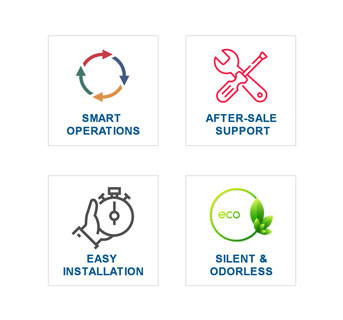 Advantages of Ecocycle® MBR Compact Package WWTP Units
Less Space Requirement
Recycling for irrigation
Higher Outlet Water Quality
Silence and Odorless
Advanced Processing Technology
High Efficiency In Different Flow Rates
Low Initial Investment and Operating Cost
Resistant to Different Temperature
Easy Installation & Commissioning
Flow Diagram