Proseptic® compact domestic wastewater treatment plants designed by SBR ( Sequencing Batch Reactor ) activated sludge process, a fill and draw activated–sludge treatment process.Proseptic systems serves with the capacity range of 10 m3/day - 1000 m3/day capacity

The Sequencing Batch Reactor (SBR) is an activated sludge process designed to operate under non-steady conditions as % 90 capacity changing. SBR tank carries out the functions of 3 phase, equalization aeration and sedimentation in a time sequence in the same tank.



Entirely prefabricated, the compact treatment units are of portable sizes and aesthetical appearance.
Compact Treatment Units are manufactured of carbon steel formed at appropriate thickness, and surfaces are finished with two coats of mastic epoxy paint after sandblasting process to provide anticorrosive effect.


Even in variable wastewater capacities, the system is capable of yielding output water conforming to the Standard Values for Discharge of Household Wastes to the Receiving Medium under the "Regulation Governing the Control of Water Pollution". The output water of the compact treatment plant may be used for the irrigation of gardens.
The Compact Treatment - Plant treats wastewaters by a Biologic System employing a microorganism community called active smudge. As excess process smudge to be produced in the compact treatment unit is mineralized, it may be sucked by means of a sewage truck at 4-5 month intervals based upon the pollution rate of the input water or employed as a fertilizer in case the medium allows.
Compact treatment units - plants are covered under service and maintenance warranty. Our company provides replacement parts and technical service for the subsequent years.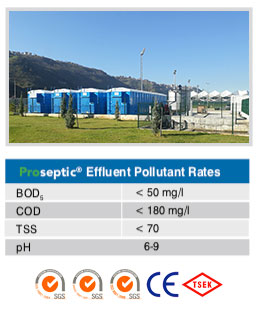 AREAS OF USING PACKAGE TREATMENT PLANTS:
Summer housing developments
Holiday villages
Housings and mass housings
Factories and Industrial Facilities
Villages, towns and Municipalities
Schools, Hospitals and Military Facilities
Accommodation Facilities and Restaurants
Temporary locations such as construction sites
Recreational facilities Camps
Villages, towns and Municipalities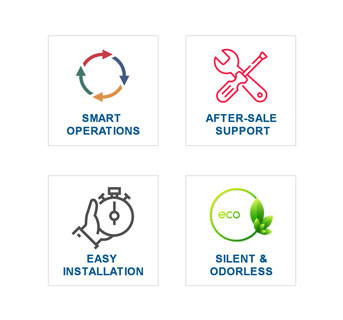 Advantages of Proseptic® Compact Package WWTP Units
Full automatic operation
Minimum maintenance
Modular design allows expansion
Advanced Processing Technology
High Treatment Efficiency
Low Initial Investment and Operating Cost
Compact Layout
Silent and Odorless operation
Quick installation and start up
What are the benefits of the Proseptic® biological container system treatment?
The technology used is ideal for applications where trained operators are not in place or where minimal operator entry is required. Modular design makes it easy to increase the number of units according to capacity.
That's why Proseptic® WWTP solutions are the best choice for a low-cost, automated and reliable wastewater treatment plant.
Ease of operation
Modular design allows expansion
Quick installation and start up
Low operating expenditure
Small footprint
Low energy consumption
Discharge quality to environmental standards
Fully automated
Is it suitable for overseas loading?
Arsimak designs and manufactures the Proseptic units in suitable sizes when it will reach by ship transportation. Proseptic can be transported 20ft./40ft./40ft.HC Open Top containers.

Are components and spare parts easy to supply? (OEM)
Products and components are sourced from reputable suppliers and OEMs locally and internationally, providing you with the best quality possible.

Does Arsimak provide After Sales Support ?
Arsimak provides a wide range of after-sale support and services to help our customers make the most of their assets.