Externally Fed Rotary Drum Screens are automatic self-cleaning inclined screens based on the needs of the wedge section is fabricated from sheet or prefabricated grid.

Externally Fed Rotary Drum Screens works to the principle of the screening of the particules on the surface of the screen as outwash type.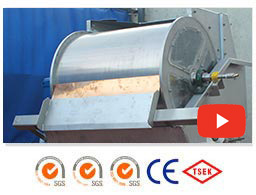 Typical applications : separation of various solids and sludges from municipal and industrial wastewater, food processes, pulp and paper production and rendering processes; removal of extruded pellets from cooling baths; and separation of debris from any variety of plant and equipment-cleaning processes.
Externally Fed Rotary Drum Screens Features
High efficiency
Different power engine options
Compact and stylish design
Suitable design for different capacities
Mining Industry
Fabricated parts entirely manufactured from 304 L / 316 L SS
Shaftless conveyor screw manufactured from 304 / 316 SS or special high resistance steel