Compact Screw screens are intended for the extraction of medium and fine waste solids from domestic and industrial wastewater, with their subsequent flushing, compacting and transporting into a waste bin.

Screens are manufactured from stainless steel AISI 304 or AISI 316 on customer demand.

Thanks to the special design and inclination the Compact Screw Screen is studied for a perfect and "plug & play" installation.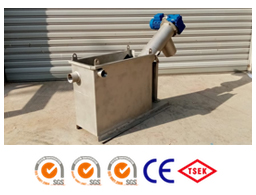 Compact Screw Screen Areas Of Usage
Municipal wastewater treatment plants
Industrial wastewater treatment plants
Tanneries Industries
Beverage Industries
Laundries industries
Slaughterhouses
Paper mill industries
Textile industry
Fish industry
Food and chemical industries
Plastic recycling industries